It spanned six days and reached every corner of the local population by providing training to teachers,programmes especially for young children, a science exhibition for the entire 4000-strong community to enjoy, and much more. All inspired and themed around Venus and our universe!
In true children's foundation style, most of the activities took place in schools or universities.
The first day, June 1, was Children's Day. The organisers set up shop at primary school Ruy Cinatti, where the pupils aged 3 – 8 learned about constellations, viewed sun spots through telescopes and solved puzzles.
June 2 focused on teacher training. (an undertaking we are very familiar with) Located again at Ruy Cinatti, the day drew 40 teachers from all over the country. There they discussed the solar system, the stars and planets, constellations and of course the transit of Venus itself.
June 4 to 5 drew the crowds into the universities. The Universidade Nacionale de Timor-Leste hosted the busy two day exhibition, during which the organisers displayed five panels on the Venus transit, the solar system and the universe, and held a series of talks for high school and university students.
Another Children's Day was planned on June 6 – this time in Gleno, one of East Timor's biggest cities. They observed the sky through telescopes and learned about the universe.
The transit of venus
Finally, the culmination of the week and months of planning: the transit of Venus on June 6. This celestial phenomenon was the last of its kind to occur this century, and for a few hours showed Venus pass in front of the Sun, morphing the familiar fixed bright spot we can normally see in the night sky into a gliding dark orb visible against the golden backdrop. The next will be in December 2117, so it was truly a special occasion. The gathering was located at the Presidential Palace (Palacio do Governo) and attracted around 3800 of the local residents. The whole community got involved, asking questions and observing the transit through telescopes.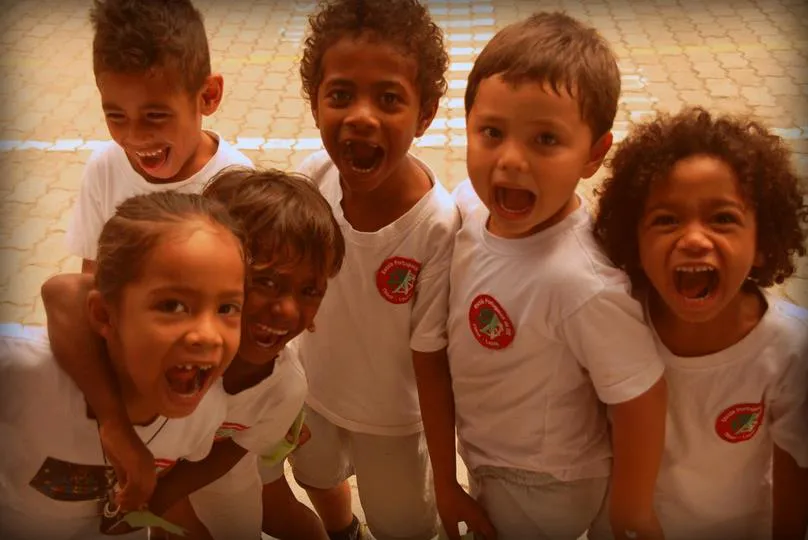 All in all, it was a wonderfully educational and productive time. Thank you to UNAWE and Leiden University for the great cooperation, and we look forward to more in the future! You can find plenty more great photos of the week's activities here, by the event photographer Jaya Ramchandani.
In 2013 the Foundation teamed up with UNAWE for the Universe in a box project.